The GEO XIII Plenary was arranged 7-10 November 2016 in St Petersburg, Russia, under the theme "Advancing the Vision of GEO".
The Plenary brought together over 400 representatives from GEO Member Countries and Participating Organizations. Group on Earth Observations (GEO) is a voluntary partnership of more than 200 Member Countries and Participating Organizations, advocating for broad and open Earth Observations data policies and actively contributing to build the Global Earth Observations System of Systems (GEOSS).
INTERACT was represented in the side event arranged by the GEO Cold Regions Initiative (GEOCRI) on 8th November, where the INTERACT Science Coordinator Terry Callaghan gave a talk about the second phase of INTERACT and the Mega Transect and Super Mega Transect Concepts. INTERACT is one of the key contributors and one of the co-leads of GEOCRI, which is a cross-cutting initiative covering the Earth's cold regions including the Arctic, the Antarctic, Himalaya-Third Pole, high-latitude oceans and high mountain areas.
In addition, INTERACT Transnational Access Coordinator Hannele Savela represented the GEO Cold Regions Initiative in a panel discussion arranged during the Plenary on Nov 9th under theme "User and Policy Driven Initiatives". The Panel presented variety of GEO initiatives and flagships at different stages of their development and implementation. Through practical examples defining the challenges and opportunities faced by these initiatives, the panel aimed to address a broad range of issues associated with the development, consolidation and implementation of both user and policy driven initiatives.
As a H2020 supported project, INTERACT also had a stand in the European Area of the GEO-XIII Exhibition, that took place from 8 to 10 November at the meeting venue, Park Inn by Radisson Pribaltiyskaya hotel.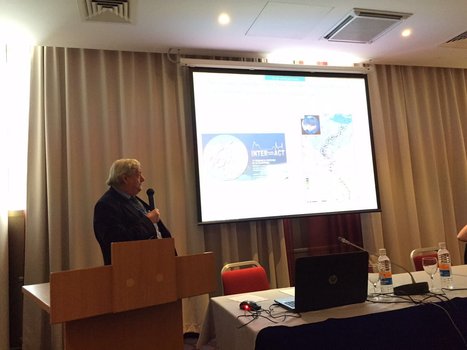 Terry Callaghan presenting at the GEOCRI side event (Photo: Yubao Qiu).