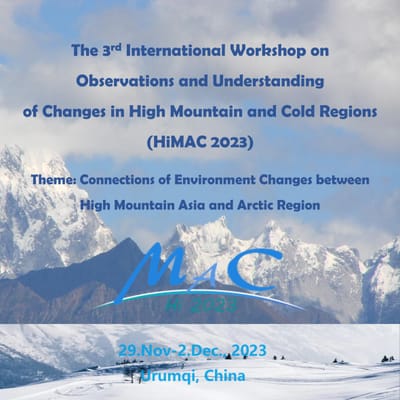 Background / Introduction
The world is getting more sensitive to the climate change and human activities as floods, droughts, fires, wars, inequality, health emergency, and so on occur more frequently, in turn, exerting an influence on the environmental changes and sustainable development. High Mountain and Cold Regions saw an amplification effect about changes and impacts. Specifically, the High Mountain and Cold Regions are linked with spatial contiguous air and vapor on the sky, permafrost, snow, forest and even hazards on the land, seasonally or perennially. Thus, environmental changes in the high mountain and cold regions cannot be observed and understood in isolation. A better characterizing and understanding the linkages in high mountain and cold regions would be a must to improve the scientific understanding and to design interventions towards adaption.
Both the Qinghai-Tibet Plateau and the Arctic region are sensitive areas of global change and research hotspots, which have an important impact on the implementation of the "Belt and Road". Improving the observation and understanding ability of high mountains and polar cold regions is of great significance to the adaptability of ecological environment and the transportation, large-scale infrastructure, water and agricultural security, and energy pattern involved in human activities.
At present, the rate of warming in the Arctic and the high mountain areas in Asia is 2 or even 3 times more than the global average. Big data based on space observation can obtain macro, long time series and objective data sources for scientific research in remote areas where snow and ice have a large impact. The technology of coordination between ground observation and space observation can obtain multi-element environmental information for scientific research and further deepen the understanding of environmental change.
Filed work in China and abroad are linked more closely by conducting experiments jointly and sharing scientific outputs in different subregions of High Mountain Asia (HMA) and the Arctic Region, with a series of essential variables ranging for decades. Taken together the development of observation systems and great changes in HMA and the Arctic Regions, it is a good opportunity for global and trans-boundary scientific and decision-making cooperation for a shared and better knowledge on HMA and the Arctic Regions.
The workshop is an event in the framework of the international program - "Group on Earth Observations Cold Regions Initiative (GEOCRI) " and "High Mountain and Cold Regions Working Group (HiMAC) of Digital Belt and Road Program (DBAR) ".
The workshop will focus on the connections of Environment Changes between High Mountain Asia and Arctic Region, and which is organized around follow themes:
Theme1: Remote Sensing Experiments and Modelling of Cryosphere
(Corresponding Person: Lingmei JIANG, Yubao QIU, Xiaofeng LI, Tianjie ZHAO...)
Remote sensing experiments for in-situ calibration and validation
Experiments for environmental factors, process and physical modelling for environment evolution based on snow, water cycle, carbon cycle and other processes
Theme2: Earth observations Data and value-added products
(Corresponding Person: Lanhai LI, Jan Rene Larsen, Pengfeng XIAO, Andreas Dietz, Masaki Kanao, Fengming HUI...)
Innovative methods and approaches for earth observations data processing
EO Data and value-added products in High Mountain Asia and the Arctic
Data management and data sharing principle
Theme3: Modeling and change analysis of High Mountain Asia and the Arctic
(Corresponding Person: Tonghua WU, Xi LIANG, Peng LU, Shiming XU, Donghui SHANGGUAN, Peng LU...)
Spatial and temporal change and analysis of the environmental changes in High Mountain Asia and the Arctic
Forecast and assessment of land and ocean environment
Theme4: Correlation and synergy of HMA and the Arctic environment
(Corresponding Person: Huabing HUANG, Xinwu LI, Hanna Lappalainen, Mingyang LV...)
Correlation or tele-correlation analysis of the environmental changes of High Mountain Asia and the Arctic
Synergy of environmental changes in High Mountain Asia and the Arctic
Theme5: Impact of environmental changes and sustainable development through EOs
(Corresponding Person: Tie LIU, Jinghui FAN, Youhua RAN, Guoqiang JIA...)
Impacts and implication of environmental changes to societal benefits Area : agriculture, disaster, water resources, infrastructure, forest in High Mountain Asia and Arctic Region
Impacts and responses of future environmental changes in HMA and the Arctic